Case Packer Series

Single Head Case Packer - (ACP-PPS-Series)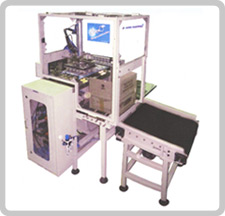 The machine works on the principle of pick and place method using specially designed vacuum suction systems.
Cycle Speed : Pneumatically operated : 12 cycles / head and Servo Driven : l5cycles / head.
Matrix Plate : Matches to the carton size. matrix and product size fitted with rectangular bellow suction cups or round bellow suction cups depending upon the product shape.



Double Head Case Packer - (ACP-PPD-Series)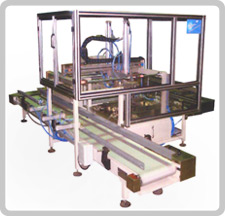 PLC : Allen Bradley make with HMI panel optional extra & pneumatic components are of FESTO / SMC make.
The machine houses the electrical and pneumatic panel within the base foot print of the machine.
Grippers are used to hold containers and bottles if they are not suitable for lifting through vacuum.






Four Head Case Packer - (ACP-PP-TWH-DUP-Series)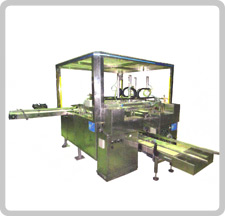 All moving parts are covered with safety limit switch interlock and the machine is fitted with optional beam sensors (Light curtains) to ensure operator safety.
HMI will display trouble shooting procedures and fault indications to minimize down time and improve OEE. Coverall equipment efficiency.
Electrical and pneumatic components are designed for easy access and replacement without disturbing main wiring system to reduce down time.


High Speed Servo Model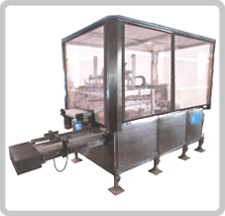 Predominantly pneunmatically operated case packer models are used because of the user friendliness and cost effectiveness
However to achieve more cycle speed SERVO driven machines are supplied depending upon customer requirements.
Allen Bradley SERVO drives are used
25% increased cycle speed may be achieved by using SERVO based case packing system
ROBOTIC pick and place systems may also supplied by us through integrating standard ROBOT to our case packer models


Modular Belt Matrix Base Model - (ACP-PP*-MD-Series)

The modular belt matrix base models helps in achieving higher speeds.
It is difficult to arrange certain products on matrix table. Modular belts enable inline matrix formation for such products.
---
Case Erector Cum Packer Mono Block Series

Auto Case Erector - Filling-Taping Model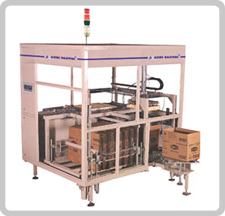 The mono block case erector cum packer model combines the operation of both carton opening and product filling to final taping.
Carton bundles loaded in the magazine are erected automatically and fed to the filing station.
The product is filled in to the carton through suitable method matching to product nature and orientation for filling.
After filling both top and bottom flaps are closed and taping is done or fed to the final end of line conveyor.
Consistency in the quality of carton plays a major role when auto carton erection is integrated.