Saponification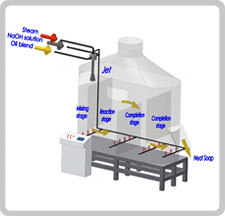 The saponification process obtained with the JET is extremely efficient and simple and no mechanical actions are needed except pumping the reagents.

The process starts in a Venturi device, the Emulsifying JET, where the oil blend and the alkali meet together with a small flow of steam.

The intimate presence of oil and alkali allows an immediate start of saponification and the formation of a homogeneous emulsion of oil, alkali and soap. This creamy foam falls in a Reactor at atmospheric pressure where the saponification process can be easily completed. A residential time of max 60 minutes is more than enough for a full completion of the saponification process at different conditions. The only aid needed is a minimum flow of live steam.

Features of the design permit minimizing energetic consumption and room requirements, and thanks to its simplicity, it is offered at a very competitive price.

Possible plant combinations are:
Full-Boiled Saponification of Neutral Oils/Fats
Semi-Boiled (SWING) Saponification of Neutral Oils/Fats
Semi-Boiled (SWING) Semi-Concentrated Saponification of Neutral Oils/Fats
Semi-Boiled (SWING) Concentrated Saponification of Neutral Oils/Fats
Neutralization of Fatty Acids


---
Vacuum Spray Drying

We are pleased to present our Vacuum Spray Drying Plants for the production of toilet soap noodles (pellets) and laundry soap bars.

We design, manufacture and supply Vacuum Spray Drying Plants
We also revamp existing Plants and supply fully rebuilt second-hand Drying Plants
Spare parts, pumps and other components for existing Drying Plants are available
Customized complete Engineering Services are offered (layout drawings, P&I drawings, material lists, thermal and material balances, etc.)
Start-up and training by experienced technicians are available when required
The Streamline Exports team looks forward to the opportunity of designing a soap drying plant which meets your specific needs. Contact us with your needs. We will be pleased to work with you.










---
Chill Rolls

The Drum Flaker (Chill Rolls) is a simple and reliable machine that cools and solidifies into flakes liquid neat soap, soap/syndet ("combo") and syndet products.

It has a two special, counter-rotating stainless steel rolls equipped with internal cooling jacket.

Cold water is conveyed through in a spiral pattern all around the inner surface of the drum, to grant an uniform heat transmission.

The drums are equipped with rotary joints for proper water distribution and consistent water recycling in a closed circuit when using a water chiller.

Separate motor-reducers drive each drum and the product discharge conveyor. These independent drives allow easy maintenance and flexibility of operation.

Liquid soap or syndet slurry is pumped on the rolls that spread it evenly among them, in a 0,3 — 0,5 mm thick layer that is quickly cooled down and solidified. Product is then scraped off the rolls, by the doctor blades, in form of flakes and fall onto a discharge conveyor belt.

It is suitable to produce soap flakes at a temperature of 38-40°C approx. from liquid soap at 80-90°C. Soap produced in this way has no dry specs, because of very limited drying involved.

Features:
All parts in contact with soap made in AISI 304 stainless steel, remaining parts in epoxy painted carbon steel
Gap Setting: mechanical manual setting and adjustment
Connections: rotary joints
| | | | |
| --- | --- | --- | --- |
| Models | Production Rate (Kg/h) | Installed Power (kw) | Heat Exchange Rate * (Kcal/h) |
| CC-500 | up to 1000 | 5,75 | 45,000 |
| CC-700 | up to 2000 | 3+3+0,75 | 90,000 |
| CC-1100 | up to 4000 | 4+4+0,75 | 180,000 |
| CC-1350 | up to 6000 | 5,5+5,5+0,75 | 270,000 |