Cutters

We offer four single blade adjustable length soap cutters with different characteristics and range of applications.
Unicut is an electro-pneumatic cutter suitable for low capacity lines. It can be fitted with an economical printing device for cut soap billets (slugs). A special version is available for hand-fed products.
Savoncut/p is an electro-pneumatic cutter applicable for medium and high speed lines. Due to its simple design, it is recommended where easy maintenance is a priority.
Savoncut/e is a mechanical-electronic cutter designed for medium to high speed lines. Two servo-driven motors, electronically geared, operate the blade obtaining a synchronized cut which is vertical even in case of billets extruded at high speeds.
Easycut is a fully electronic cutter suitable for any line speed. An innovative new design with a rotating blade directly coupled to the servo-driven motor shaft assures very accurate cuts for high-speed operations.

All our cutters has been designed to cut continuously extruded billets from 8 to 1000 mm. The cutting length can be changed easily and immediately on the touch panel while the unit is in operation.

Our cutters are recommended for cutting :
Very long billets required for multi-cavity "flashstamping" presses
Unstamped thick laundry soaps
Laundry soap billets printed in the center of top or side
Hard products such as synthetic laundry bars
Short and thin billets for hotel soap applications

Flashstamping soap presses utilize long billets which can cause bridging problems when recycled back to the plodder. The "recycle mode", when actuated, cuts short billets for recycle, eliminating bridging.

EACH SAS MARIANI CUTTER IS SUPPLIED WITH :
PLC and user-friendly Touch Panel/Screen
Electronic Encoder for precise cutting length measure
Frequency driven belt conveyor to match the extruded billet speed
Safety covers with interlocks
Pneumatic anti-vibration jack-bolts
Height adjustment of the cutting plane
OPTIONAL ITEMS
Top centered printing device
Two or four side embossing rollers
Left and right hand models
Increased or decreased cutting stroke









---
Plodders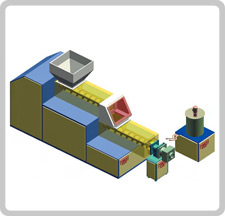 The majority of our plodders are customized units which are available with different layout combinations, different L/D (length to diameter) ratios, use of various materials, several and customized screw (worm) designs, multiple options and of course are offered in different sizes.

More economical "pelletizers" are offered for various applications including "pre-refining"

Multi-colored systems are available in solid-liquid and solid-solid variations.

Besides the "conventional" plodders, we can offer the special TRANSAVON plodders with unique features, like the long L/D ratio "comboscrew" and the "milling valve". They areapplicable for refining and extruding all types of soap products. Ask for our separate detailed TRANSAVON leaflet. The Streamline Exports team is ready to share its expertise in proposing the most suitable plodders for your production requirements.


SCREW
SINGLE-SCREW
TWIN-SCREW
Diameter
(mm)
Output Range
(kg/h)
Installed Power
(kw)
Output Range
(kg/h)
Installed Power
(kw)
115
150
3
350
5.5
160
300-500
5.5-7.5
800-1200
11.15
200
800-1200
9.5-15
1600-2000
18.5-22
250
1500-2000
18.5-22
2500-3500
30-37
300
2250-2750
30-37
3500-4500
45-55
350
3000-4000
37-45
4500-5500
55-75


---
Mixers

"SASMIX" Open Sigma (Z) Mixer
The "3ASMIX" mixers (amalgamators) have been designed to mix soap pellets of all types with various liquid and solid additives.

The special open type "Z" shaped mixing blades assure thorough mixing of all the ingredients and permits easy and quick cleaning. A side door is provided for inspection and/cleaning.

A discharge door actuated by a pneumatic cylinder is placed on the bottom of the tank with interlock microswitches

The blades holding shaft rotates on self-aligning roller bearings placed on a grease lubricated sealing box.

An electric motor with pulleys, V-belts and a speed reducer with helical gears lubricated in oil bath drive the mixer.

All parts in touch with the product are made of AlSl 304 stainless steel.

The machine is provided with safety devices according to the International Regulations In force. We also offer specific local safety requirements as per Customer requirements.

Mixers are usually positioned under weigh scales.

"DSM" Double Arm Sigma Mixer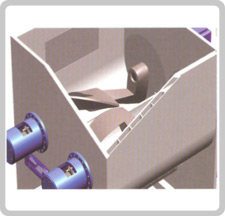 Intensive or micro mixing is achieved Men the pellets are broken up to expose more surface and to allow the ingredients to penetrate inside the pellets.

The DSM mixers are equipped with two massive, tangential counter rotating "Sigma" type blades that can handle all the power required in the process. The blades are machined from AISI 316 Stainless Steel. Other materials are available upon request.

The blades are supported by a set of heavy-duty roller bearings and are driven by separate motor-reducer groups. Two sets of special packing rings for each blade are used to seal off the mixing area from the bearings and the drive groups.

The mixing bowl jacketed for heating and cooling application and machined to guarantee minimum gap between the blade and the bowl.

The jacket is provided with internal baffles that force the water in a zigzag pattern enhancing heat transfer.

All parts in touch with the product are made of AISI 304 stainless steel.








---
Transavon

TRANSAVON SOAP FINISHING LINES

Soap finishing is the transformation of soap noodles (pellets) into formulated stamped soap bars (tablets). The goal is to refine/homogenize and compact the product with optimum physical and chemical features.

Soap finishing consists of several working stages: pre-refining, mixing, refining and extrusion, stamping and packaging.

A line with less refining stages (i.e. one Simplex Refiner and one Duplex Vacuum Plodder) is indicated to produce a limited variety of soaps (i.e. lightly coloured toilet soaps).

Lines with more refining stages (additional Three Roll-Mill) can produce soaps with large amount of additives and, in certain controlled conditions, synthetic products and translucent soaps.

The Transavon family of plodders make it possible to use them in four types of combinations with minimum space requirement, minimum power and utility consumption.

Four Types of Transavon Finishing Lines
SPECIAL - Multi-Product Line with Pre-Refining
Standard Simplex Refiner + Mixer + Transavon Duplex Vacuum Plodder
TOTAL - Multi-Product Line without Pre-Refining
Mixer + Simplex Refiner + Transavon Duplex Vacuum Plodder
STANDARD – Standard Transavon Line
Mixer + Transavon Duplex Vacuum Plodder
ECO - Economical Transavon Line
Mixer + Simplex Refiner + Transavon Simplex Plodder





COMBO SCREW
DIAMETER
(mm)
L/D
RATIO
Opaque Soap
PRODUCTION CAPACITY
(kg/h)
INSTALLED POWER
PER STAGE
(kw)
160>100
9:1
300
7,5
200>130
9:1
800
11 to 15
250>150
9:1
1500
22 to 30
300>180
9:1
2200
37
350>220
9:1
3000
45 to 55


---
Stampers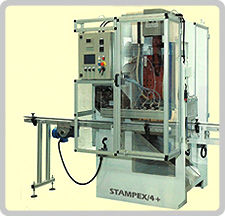 Following the best tradition of Italian soap machinery manufacturers and core mission of SAS, Italy and Streamline Exports India.

We are pleased to present to you the most complete family of flash-stamping soap presses accounting of 8 models for all kind of production needs.

With eight different Stampex models available plus many other soap press models, SAS Mariani confirms its unique position of most specialized soap press manufacturer in the world with decades of field experience and one thousand units sold worldwide.

The main vertical stamping movement of all Stampex versions is obtained without cams to assure maximum sturdiness and simplicity. The + versions take advantage of a toggle-joint cinematic mechanism that allows the Double Stroke action for a high finishing quality at any speed rate.
The Stampex/1 and Stampex/2 have been studied for small production lines or hotel size soap lines.
The Stampex/3, Stampex/4 and the related + versions are suitable for lines from 1,000 to 2,000 kg/h.
The Stampex/6+ and Stampex/8+ are offered for high-speed lines.